Hardija Lediņa gads 2015. gadā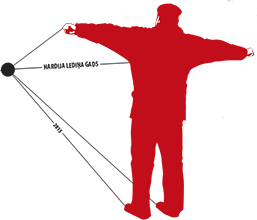 On the occasion of its 60th anniversary, the Latvian Centre for Contemporary Art (LCCA) declared year 2015 Hardijs Lediņš Year, highlighting his importance to Latvian contemporary art, his multifaceted and interdisciplinary activities, and his expansion of the boundaries of Latvian culture. The idea to mark this anniversary was a critical commentary on the tendency to create cultural cannons in which contemporary alternative culture was not taken into account. The opinion of the LCCA was that Hardijs Lediņš was also a part of the cannon of Latvian culture. A number of events took place during Hardijs Lediņš Year: reconstructions of performances (Binocular Dance Lessons, Walk to Bolderāja, the Kosmoss discotheque ), exhibitions of contemporary art, literary readings, multimedia performances, concerts, actions in parts of Riga that were important in the life of Hardijs Lediņš, and publications about him. The events were widely popularized by the media, and had a much greater impact on cultural milieus than was initially expected by the LCCA.
Mrežna stranica
Početna godina ključnog događaja 
Glavni sudionici
Dokumenti o ključnom događaju  
Ieva Astahovska, Māra Žeikare, compilers (2016). Workshop for the Restoration of Unfelt Feelings: Juris Boiko and Hardijs Lediņš. Riga: The Latvian Centre for Contemporary Art.
Ključni događaj u povijesti zbirke
Bibliografija
2015 - Hardija Lediņa gads. Latvijas laikmetīgās mākslas centrs. - https://lcca.lv/lv/notikumi/2015-hardija-ledina-gads/
Hardija Lediņa gads sadarbībā ar Latvijas laikmetīgās mākslas centru 2015. - http://pietura.lv/?grupa=aktivitates&tkst=aktivitates
Ivars Ījabs (30.03.2015). Hardijs Lediņš savos Rietumos. Satori - http://www.satori.lv/article/ledins-savos-rietumos
Māra Žeikare, Diāna Popova (25.02.2015). Hardija Lediņa diskotēkas. Satori - www.satori.lv/article/harija-ledina-diskotekas
Māra Žeikare (29.06.2015). Bolderājas stils mākslā. Satori - www.satori.lv/article/bolderajas-stils-maksla
Agita Salmiņa (09.01.2015). 2015 - Hardija Lediņa gads! Ekspresintervija ar Solvitu Kresi. Artterritory. - http://www.arterritory.com/lv/zinas/4335-2015_hardija_ledina_gads/
2019-01-23 13:57:12